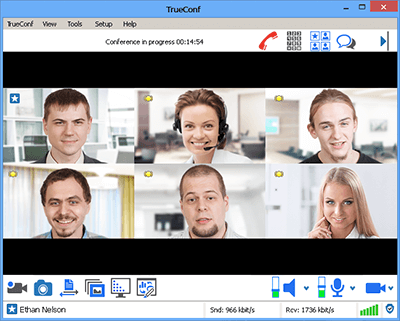 Virtual Meeting
or role-based conference is a video conferencing mode involving more than two users while some of them are acting as speakers and others as audience.
All conference participants can see and hear the speakers. The audience is not visible to anyone but any user can become a speaker.
The audience may use general and personal chats, status bar and audio replies for feedback.
Video Meeting Operation Scheme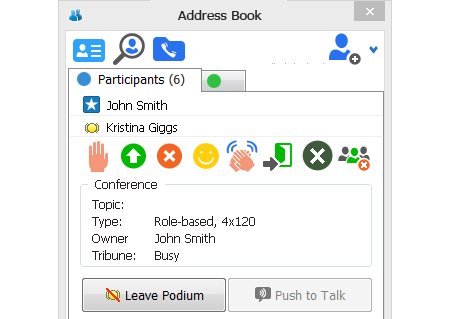 Feedback from all users
Any user can make an audio reply to all conference participants during the presentations made by speakers, send a message to the chat, view his opinion using special statuses or take the podium and act as a speaker to make a presentation. These features allow participants to simulate a real-life meeting.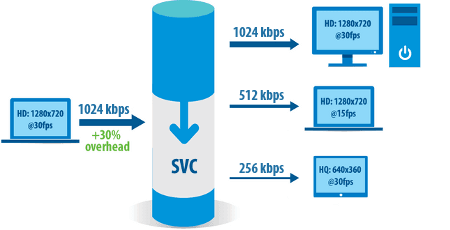 Intelligent media traffic allocation
Participants using different types of endpoints (laptops, tablets) receive the best possible video quality depending on the screen resolution and performance of their devices.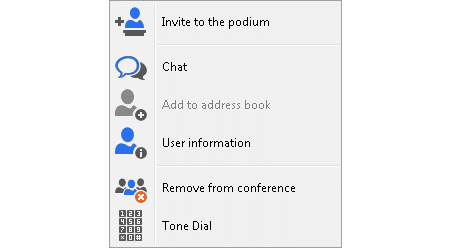 Convenient conference control
Flexible adjustment of a conference available for the host: conference scheduling, automatic access to the podium for users willing to make a presentation, managing the list of participants, podium handover etc.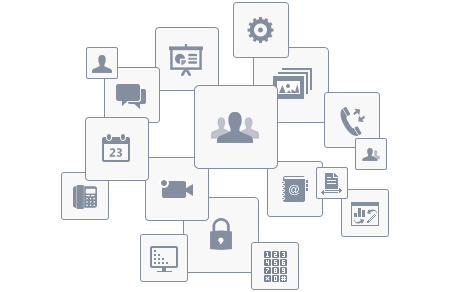 Increased collaboration efficiency
The following tools are available during a virtual meeting:
Video content and applications capturing and streaming directly to the conference
Slide shows and presentations
Video conference recording
Instant messaging
The video layout control
Drag video windows and resize them during a video conference.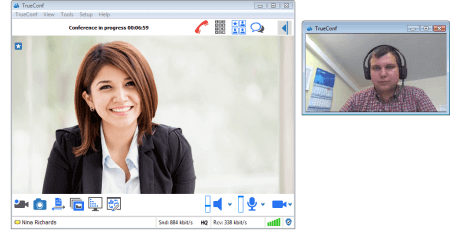 You can see each participant in a separate window.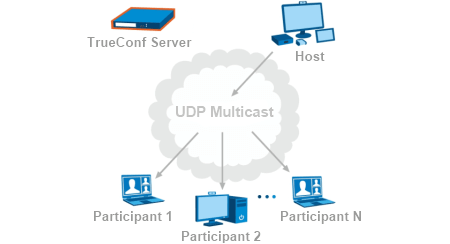 Hundreds of users in a single conference
A unique video conferencing mode that supports up to 120 participants. And it's not even the limit – this figured is doubled when using UPD Multicast – 250 users in a conference whereas this significantly reduces the server loading.
Knowledge Base
What is the maximum number of participants in a group conference?
TrueConf Online – 9 participants.
TrueConf Server – 25.
Can I invite SIP/H.323/RTSP subscribers?
Yes, if you are using TrueConf Server. You can invite PBX subscribers and users of third-party applications (SIP/H.323) to multipoint video conferences as well as to connect to IP cameras (RTSP).
Can I join a multipoint video conference through a browser (WebRTC)?
Can I schedule a group conference in advance?
Yes, only in TrueConf Server. Read instructions on how to do it.
Can the host of the conference rejoin it?
Tutorials
Role-based Video Conference with TrueConf for Windows
TrueConf Online client application for video conferencing over the Internet allows you to conduct all kinds of multi-point video conferencing, including role-based conferences. During virtual meeting, all participants can act as speakers, but the number of speakers is limited to 6 people maximum.
How to Organize a Role-Based Conference on TrueConf for OS X
TrueConf for OS X application is compatible with all of the company's solutions, so you can easily communicate with the users of mobile applications for the iPad and iPhone, TrueConf Online cloud service, as well as with TrueConf Server software server users even in Virtual Meeting mode. With the help of our recommendations you can easily organize a role-based conference.
Virtual Meeting in TrueConf Mobile Applications
TrueConf Mobile is a client application for those who want to stay connected all the time. No matter where you are: on a business trip, on vacation or on a business meeting, mobility is your main companion. Free role-based conferences on Android and iOS will allow you to quickly interact with colleagues from all over the globe.
What Modes Does Group Video Conferencing Have?
Find out more about all video conferencing modes. What's a video call? How to organize a multipoint conference in TrueConf client applications? What is Virtual Meeting mode and how it differs from a symmetric conference? Find out about these and many other topics in our section!
Sourse: http://trueconf.com/features/modes/virtual-meeting.html