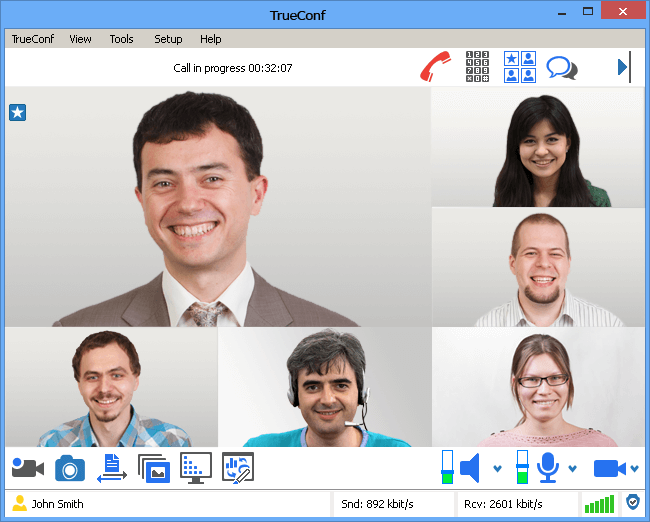 Multipoint Video Conferences
is a video conferencing mode involving more than two users who can hear and see each other.TrueConf group video conferencing is more than just video communication as it represents a fully functional collaboration tool: group text chat, slide show, screen capturing, desktop control and screen sharing.
Multipoint Mode Operation Scheme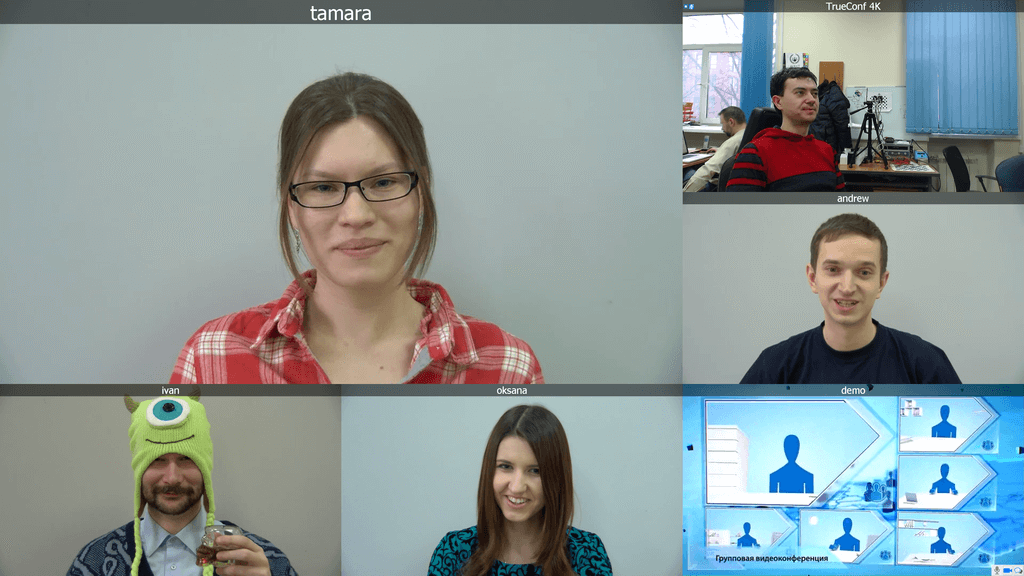 UltraHD 4K resolution
Forget about the blurry picture – enjoy UltraHD 4K video meetings simulating actual meetings. Cancel the tickets and reservations and use video conferencing services instead of business trips.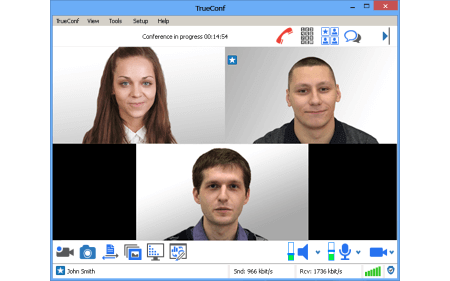 Free video conferencing for small teams
Use free video conferencing services to reduce business costs.
Cloud video conferencing solution – TrueConf Online.
On-premises video conferencing solution – TrueConf Server Free.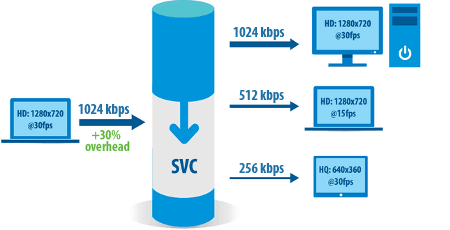 HQ video conferencing regardless of the conditions
Participants using different types of endpoints (laptops, tablets) receive the best possible video quality depending on the screen resolution and performance of their devices.
Client applications for all major OS
Stay connect always and everywhere! We are offering free client applications for Windows, OS X, Linux, Android and iOS. Turn your device into a video conferencing endpoint.
Download the client application
The video layout control
Drag video windows and resize them during a video conference.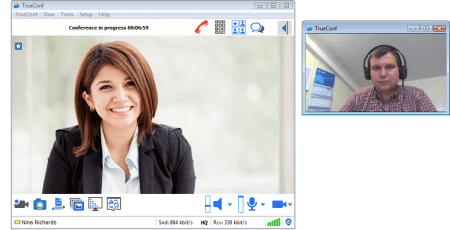 You can see each participant in a separate window.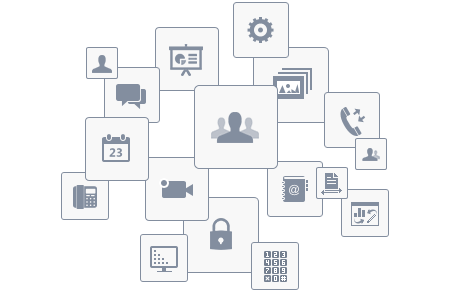 Increased collaboration efficiency
The following tools are available during a multipoint video conference:
Video content and applications capturing and streaming directly to the conference
Slide shows and presentations
Video conference recording
Instant messaging
Knowledge Base
What is the maximum number of participants in a group conference?
TrueConf Online – 9 participants.
TrueConf Server – 25.
Can I invite SIP/H.323/RTSP subscribers?
Yes, if you are using TrueConf Server. You can invite PBX subscribers and users of third-party applications (SIP/H.323) to multipoint video conferences as well as to connect to IP cameras (RTSP).
Can I join a multipoint video conference through a browser (WebRTC)?
Can I schedule a group conference in advance?
Yes, only in TrueConf Server. Read instructions on how to do it.
Can the host of the conference rejoin it?
Tutorials
How to Create a Multipoint Video Conference in TrueConf for Windows?The maximum number of participants in a symmetric group conference, organized on the basis of TrueConf Online client application is 9 and 25 on the server. Moreover, they can communicate freely with each other. Learn more about how to organize a symmetric conference using hosted service and server solution from TrueConf.
How to Manage Video Window Layout in TrueConf for Windows?
During a group video conference you can change the layout of video windows, make the image full screen and display video window in a separate screen. Symmetrical conference suggests there is multilateral communication, so when one of the speakers is making his presentation it's very convenient to pull his image out of the window into a separate screen.
Symmetric Group Conference with TrueConf for OS X
Users of TrueConf for OS X client application can conduct free symmetric group video conferences for up to 3 users. For those who want to increase the number of concurrent participants to 9, 16 or even 25 people, we offer service plans and licenses with a large variety of additional tools. Purchasing TrueConf Online service plan or TrueConf Server license will expand your capabilities.
Group Video Conferencing on iPhone, iPad and Android
Symmetric group conferences have become available to owners of mobile devices. You can download a free TrueConf client application for tablets and smartphones, and organize a symmetric group video conference on your mobile device.
What are the System Requirements for a Symmetric Video Conference?
In order to organize a symmetric conference for 4, 9, 16 or 25 users, you should be familiar with the recommended system requirements, which we have presented in this section especially for our customers. Here you will find out about the minimum amount of operating memory and supported processors required to organize group conferences and other sufficient information.
What Modes Does Group Video Conferencing Have?
TrueConf client applications allow organizing all kinds of video conferences: personal 1-on-1 video calls, symmetric group conferences for up to 25 people, and role-based conferences and broadcasts for for up to 250 people. Select the desired option and communicate in the mode which is the next best thing after the real meeting. TrueConf always offers the best!